TATTOO MACHINE EXHIBIT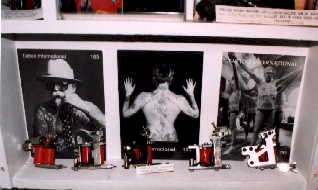 Surprising as it might sound, Thomas Edison was the genius indirectly responsible for the invention of the electric tattoo machine. In his 1876 patent drawings of a variety of electric engravers, lies the blue prints for the tattoo machine we use today. Edison's attempt to modernize the printing industry with his electric stencil maker forever changed the world of tattoo.
Before the common use and convenience of electric power, tattooing was performed with primitive hand held pokers. These simple and varied instruments remained an unchanged universal method for thousands of years. Whether it was a sharp bone, stick or a ship's sail sewing needle, basically the hand-poked style was ancient in origin. It is believed that a tattooist inspired by Edison's motorized invention modified the stencil maker and brought tattooing into the electrical age.
As early as 1884, New York's O'Reilly was reported to have a painless electrical tattoo gadget and was the sensation on the East Coast. O'Reilly filed for his "Tattoo Machine" patent in 1891. His design was a slightly larger replica of Edison's rotary contraption. O'Reilly used larger coils with his rotary flywheel and a new improved two piece tube that created a longer stroke of the needle. O'Reilly had modified an item that was already being manufactured and sold .
This machine was soon replaced with another of Edison's improvements on the 1876 patent drawing. The dual coil reciprocating engraver, a prototype of today's machine, was patented for tattooing by Charlie Wagner. Several tattooist helped develop the electric tattoo machine in to it's present form. Percy Waters, Bill Jones, Sutherland Macdonald, George Burchett, Cap Coleman, Paul Rogers....the list is endless and everyone had their own way or preference.
From time to time I'll expand the information on this page and feature specific tattoo machines in depth. These photos are of items on permanent display at Triangle Tattoo & Museum. Dig it while I take a little ride on my Harley. Mr. G.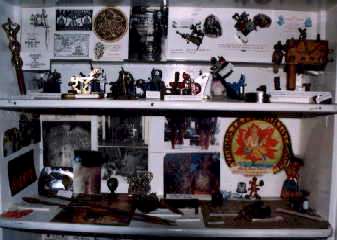 VIEW OF A MACHINE DISPLAY IN MUSEUM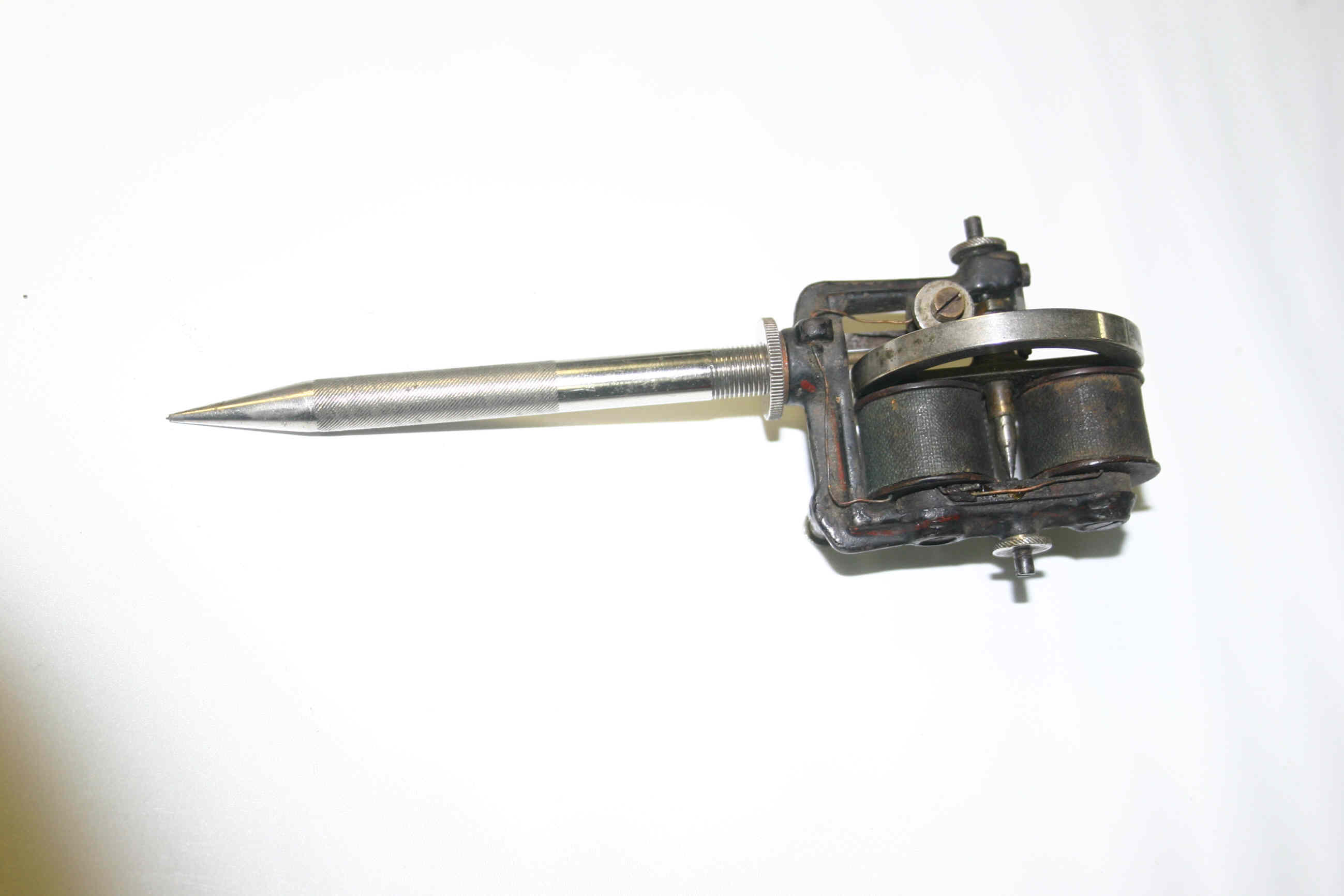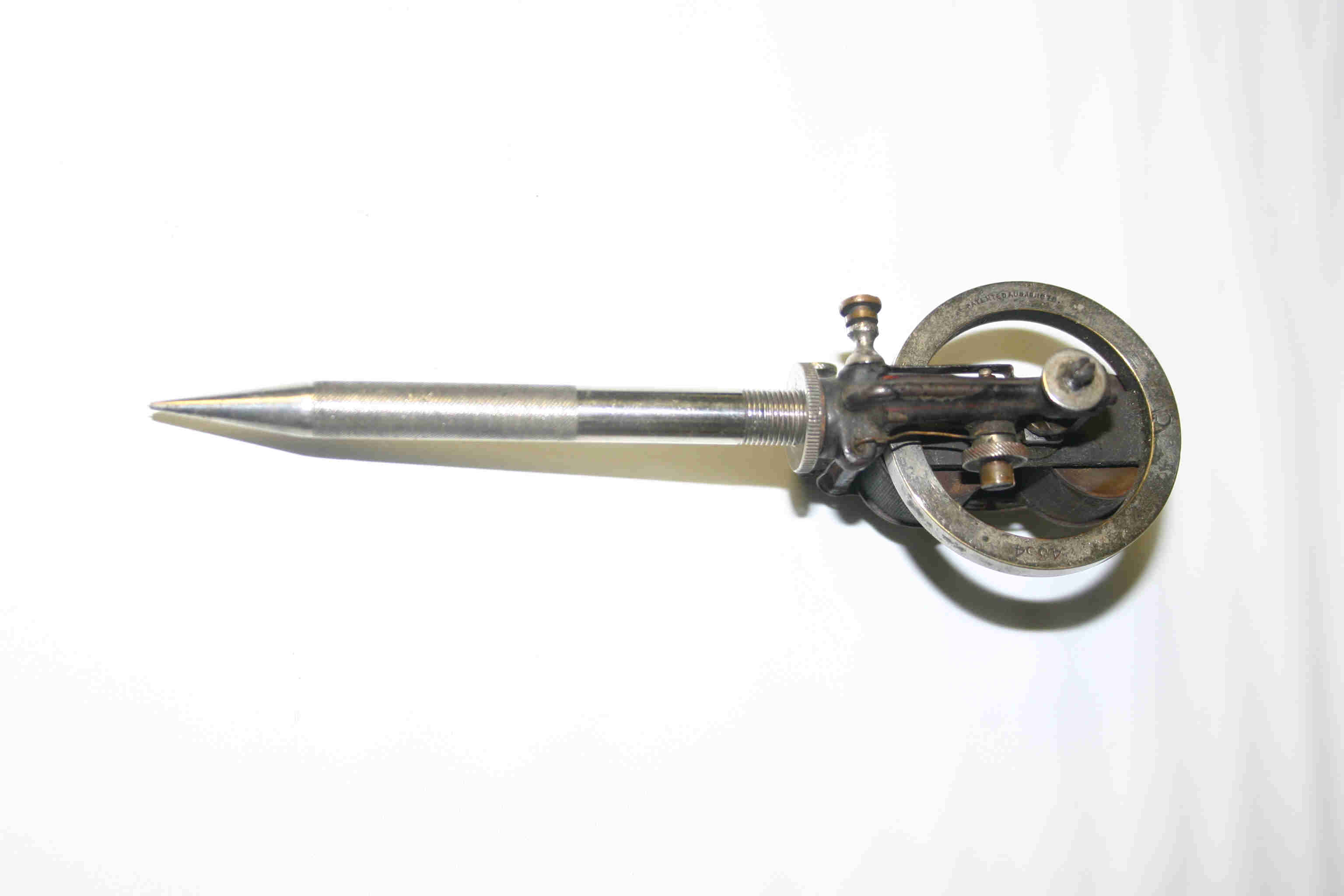 Edison's Electric Autograph Machine 1876.
This rotary machine was converted into a tattoo machine in the 1920's by a man from Chicago named Simeon Creider . This machine still runs on 6 volts D.C.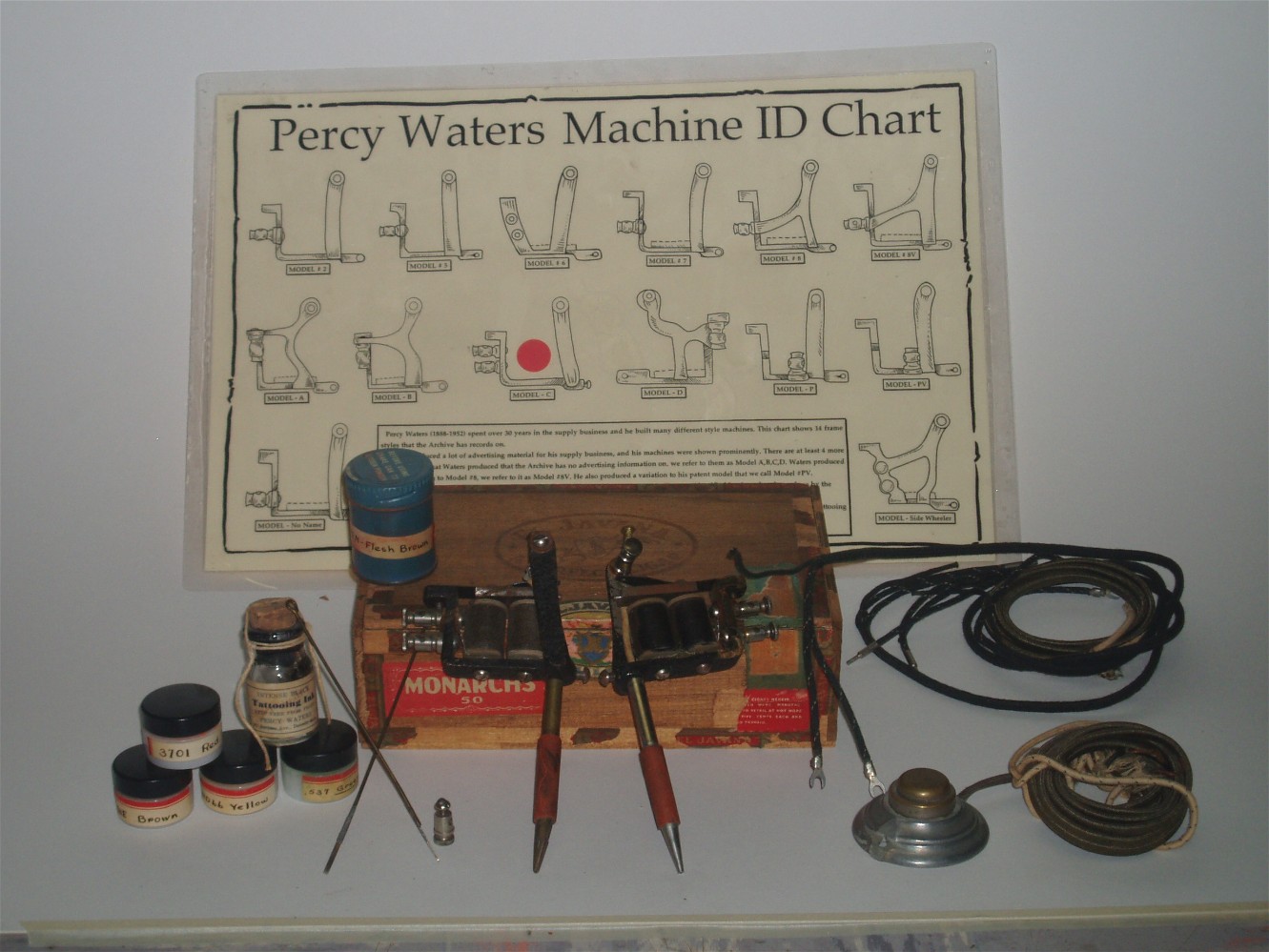 Percy Waters Kit From late 1930's. This set was never used!
The black pigment bottle still has original string to secure the cork ! The needles are still sharp. Machines are "Model C" malleable iron, painted wrinkle black. The machine frames had a unique front binding post that is located all the way forward at the tube vice and leans back towards the rear of the machine.
Inside the cigar box are catalogues, promotional flyers, a "How To Book", needles & a "french stick" with gauze for applying charcoal to celluloid stencils. There is also a typewritten note from Waters explaining the voltage to use on the machines(6 to 8 volts D.C.) .. Waters misspelled Volts as "Votes".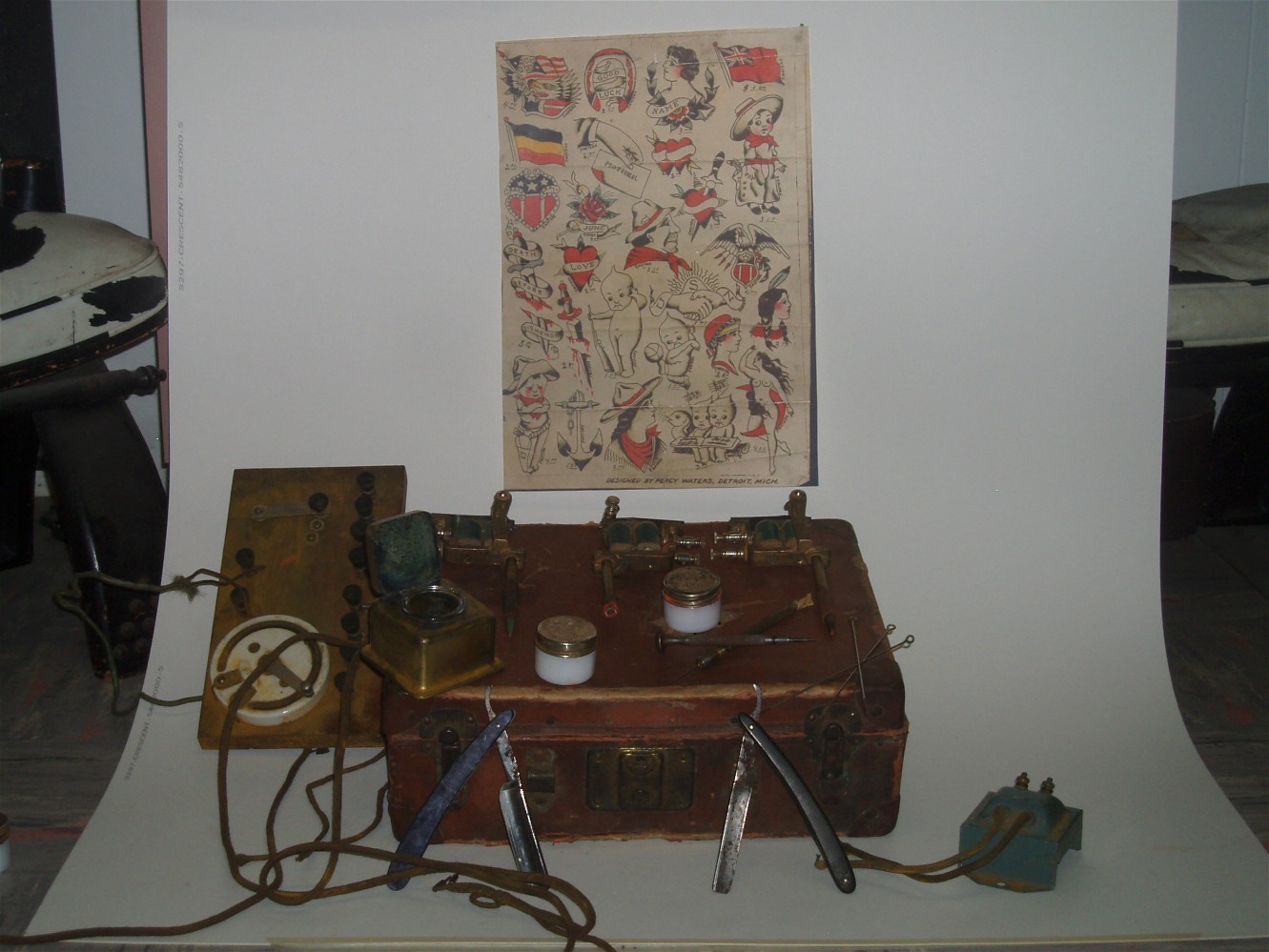 This is a complete suitcase kit from the late 1920's, listed in the 1928 catalogue as "Kit 3-A" and sold for $27.00 .It came with 1 roll of celluloid and 3 pieces of flash. The owner etched all the designs from the flash set in a very tidy fashion and signed his celluloid stencils J. Jensen. Mr. Jensen even kept a small scrap of celloid that fit's like a puzzle into the stencils. Some of the stencils retain black in the etching from being used. The switchboard was hardwired to 1 brass liner and 2 color machines. This set also has brochures and catalogues with annotated notes of Jensen in the margins. Missing from this set is one tip from a color machine and a cap for the needle stencil cutter. Any extra parts out there?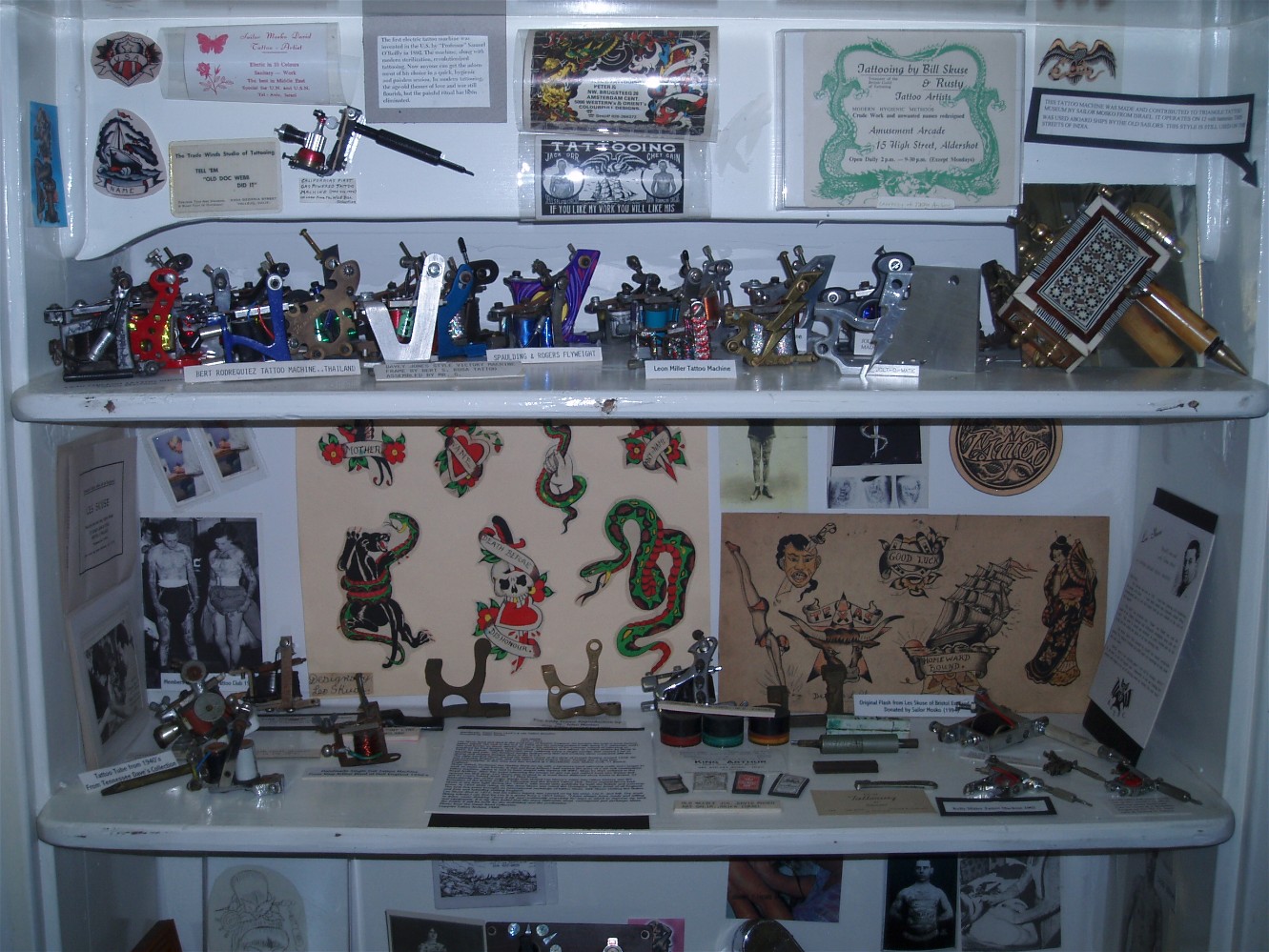 Another view of a machine display
"TATTOO OLE-HANSON" MACHINE
SQUARE COIL COVERS & FINGER SWITCH
ENGRAVED SIGNATURE #5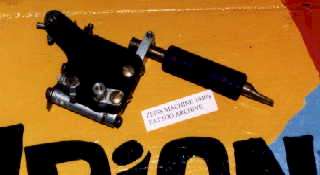 MILTON ZEIS BAKELITE MACHINE FROM THE 40'S
A COMMON MAIL ORDER ITEM
THIS MODEL WAS USED AS AN ANIMAL MARKER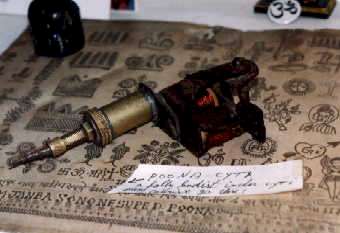 A DOOR BELL MACHINE FROM A STREET SHOP IN POONA, INDIA
IT SITS ON A DESIGN SHEET WITH ROCKS & INK BOTTLE TO HOLD DOWN WHEN WINDY
LAST UP DATED 10/29/09