IN CELEBRATION OF A SCAR
WOMEN ,BREAST CANCER & TATTOOS
"TATTOOS, WRINKLES AND SCARS ARE EXTERNAL MARKS OF OUR LIFE EXPERIENCE. THE FEELINGS WHICH ACCOMPANY THEM VARY FROM A SENSE OF PRIDE TO A FEELING OF AVERSION. TRANSFORMATION THROUGH TATTOOING OVER A SCAR CAN HAVE A POWERFUL EFFECT."
(excerpt from Madame Chinchilla's book...STEWED SCREWED & TATTOOED)
" I share my tattoo and feelings with you, so more women can realize there is an answer to mastectomies other than hiding or plastic..."
Marcia Rasner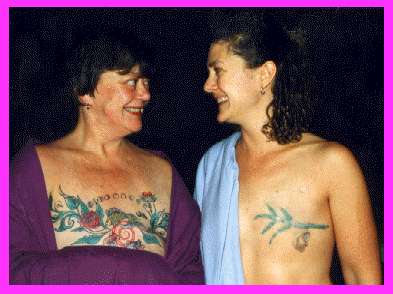 Marcia Rasner Pam Huntley
"Getting my tattoo was the culmination of a three year dance with Breast Cancer. The tattoo changed my mastectomy scar into my shield."
Pam Huntley
"My choice was not to have reconstruction after surgery because I didn't want to pretend that my cancer hadn't happened. I'm a person who needs large reminders. The cancer has brought so many blessings to my life, the biggest is the perspective that each day is so precious.
My girlfriend designed my tattoo, it's a redwood branch with an eagle's feather and a small abalone shell hanging from it. The eagle feather is a sacred healing symbol for Native Americans, and I feel birds are my connection to the natural world. The abalone shell brings the water element and is a symbol of the feminine. North Coast Native American girls had the ceremony for coming of age where their mothers would hold up a abalone shell and the girl was suppose to jump up and see the reflection of the woman no longer a girl.
I feel Redwoods are my guardian. I think of them as the Elders , a being that has been around for a couple thousand of years , and of the same roots of the trees who had been around for thousands of years before that! Their name is Sequoia or Sempervirens, which means always living. I use the visualization of myself inside a Redwood Circle and have had many ceremonies inside redwood circles. To me they are Mother Earth and I will always always be proud to have her on my heart."
Pam Huntley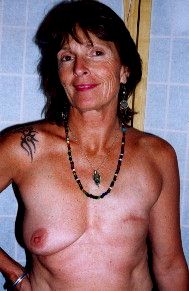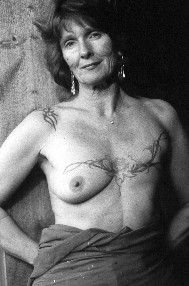 Shawn Sierra Frizzell's Tattoo by Madame Chinchilla
"With this tattoo, I stepped through another doorway in my life...a ceremony of transformation ...a circle of healing."
Tattooing these beautiful spirited women was different compared to tattooing other women, only in so far as we were creating a space where beauty could arise from a place of sheer terror and pain.
Their tattoos represent both their vanity and their survival simultaneously. We were creating from the scar, a space for a transcendental experience..
Madame Chinchilla 2-1-2002
Copyright Triangle Tattoo
Last revised: October 29, 2009