"CAPTAIN DON LESLIE
SWORD SWALLOWER, CIRCUS SIDESHOW ATTRACTION 1937-2007"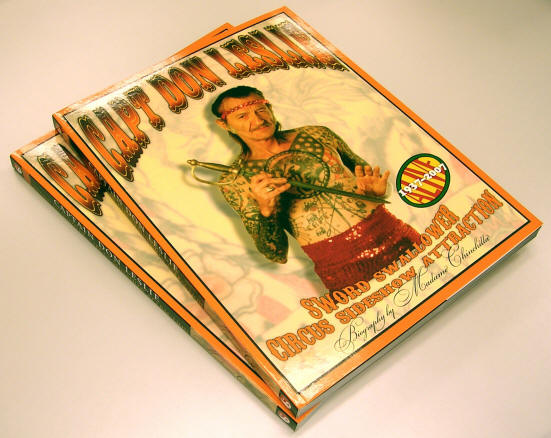 THE "OFFICIAL" CAPTAIN DON BIOGRAPHY BY MADAME CHINCHILLA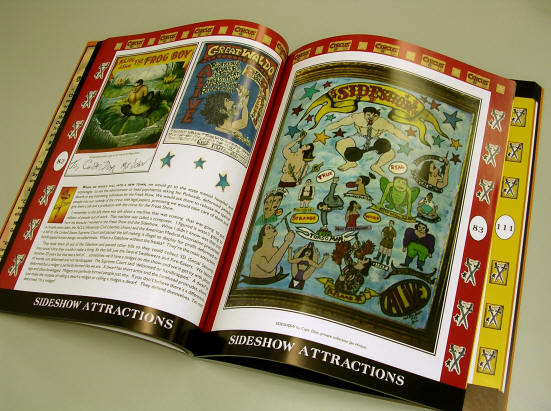 A NEW BOOK FROM TRIANGLE TATTOO & MUSEUM
Just arrived from the printers in October!
Be the first on your block to have one!
Order your autographed copy now!
208 full color pages, over 100 photos & drawings from Capt. Don's Circus Trunks
$35.00 & $5 to ship by media mail...sales tax for California residents
International orders require additional costs for shipping . You will receive a Paypal price balance request from us after your order is placed. Thank you!
"I could tell right away that he was a real showman just by the way he carried himself and his love for the circus."
Lyle Tuttle 1960's
Tattooed King of the Midway
The Legendary Capt. Don Leslie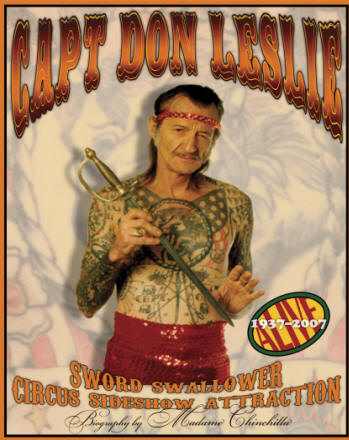 "...the amazing, unvarnished story of one of the greatest, most versatile Sideshow performers of them all, the incredible Capt. Don Leslie, as told from his personal interviews with colorful photographs from his circus trunks."
Bob Baxter editor of Skin and Ink Tattoo Magazine 2007
"In my lifetime I touched three centuries of the circus. When I was nineteen, people in their fifties were from the 1890's."
Captain Don
"Captain Don always knew he was home when he smelled elephant shit."
Henry Goldfield Goldfield's Tattoo, San Francisco
"As a young boy, Capt. Don Leslie followed his dream and ran away from home to join the circus. He lived, worked and traveled with the circus sideshow for 55 years. This is his story."
Triangle Tattoo & Museum
Mr. G and Madame Chinchilla